Summary
The Provost attended the Playscheme to find out more about some of local children that Cosgrove support and how the Playscheme makes a difference.
Cosgrove's Playscheme was visited last week by the new East Renfrewshire Provost, Mary Montague, who visited to learn more about the work that the organisation does during the holidays, providing support and breaks to young people and their families. Provost Montague was given a tour of the specially adapted space which is located in her Ward in Rouken Glen Park, Giffnock, and was delighted to be able to meet some of the young people that Cosgrove support. During one of the breakout sessions, she was treated to karaoke performances, and made firm friends with one participant, who was captivated by the Provost's gold chain!
The Playscheme has been running for over 10 years, providing support to families across East Renfrewshire and Glasgow. Recently, the Playscheme has benefitted from support from funding from The National Lottery, Creative Breaks from Shared Care Scotland, and Creative Scotland to run the Playscheme. This has allowed Cosgrove to extend the numbers for local children and their families. Playscheme is delivered by trained staff supported by local volunteers and skilled facilitators who bring new activities, fun and learning to the children who come along.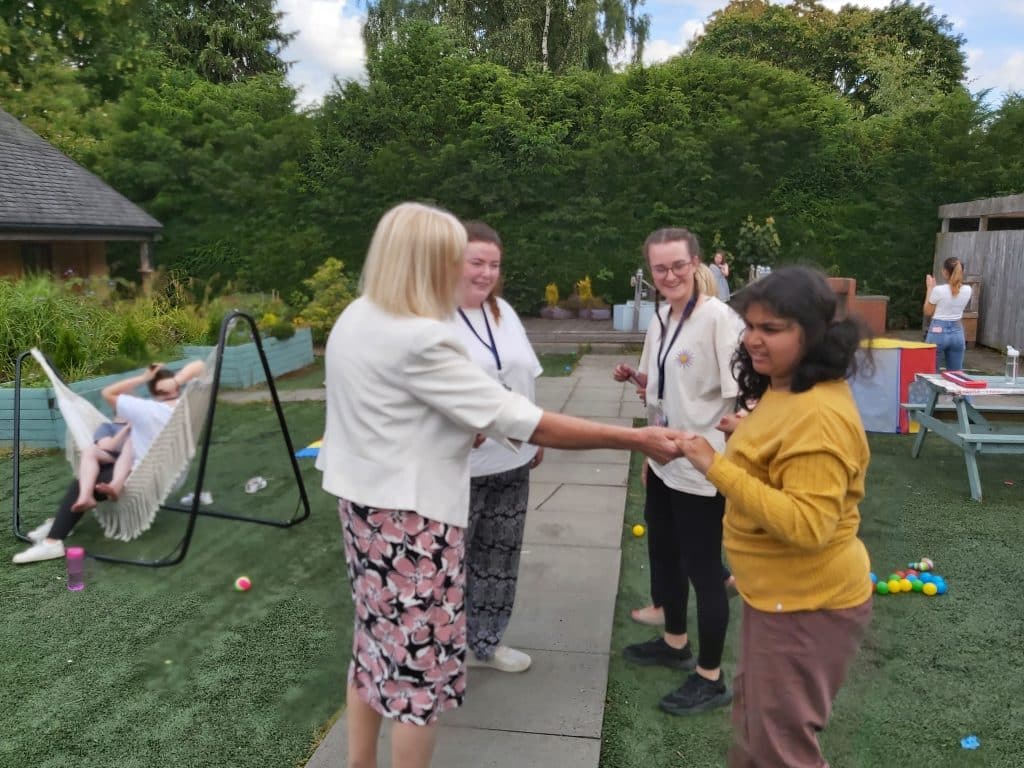 Councillor Montague was elected as Provost in May, replacing Provost Fletcher, who was also a supporter of Cosgrove's work. Provost Montague said of the visit:
"It was my pleasure to visit the Playscheme, it was fun! I had a lovely time meeting the children and the Cosgrove team. Thank you for showing me round and enabling me to find out more about how Cosgrove helps people with learning disabilities, autism and complex support needs in East Renfrewshire".
Cosgrove's Co-Chair, Donny Lyons was also on site, and he thanked Councillor Montague for visiting, saying:
"We are grateful to the new Provost for taking the time to come over and find out more about the Playscheme, which we are very proud of – we appreciate the support of elected members in our local community that helps us to carry out this important work".
A parent of one of the children taking part in this year's Playscheme said, "we are very grateful to Cosgrove for their continued support – the Playscheme in particular is great, it helps us spend time with the rest of our family while safe in the knowledge that our child is in a safe, happy environment with a team that we trust". To find out more about the Playscheme, and Cosgrove's other Childrens Services projects, email care@cosgrovecare.org.uk