Groups
Cosgrove's weekly creative groups offered adults with additional support needs and learning disabilities the opportunity to enjoy and develop new skills, ranging from Art and Drama to Creative Writing, from Health and Fitness to Yoga, from Fun with Fabric to Music.
The pandemic has forced us to innovate and be creative about how to keep some of these groups active and engaging whilst being delivered remotely – no mean feat. We've had to adapt our thriving in-person group sessions into small group or one to one online offerings.
We currently offer two online groups; The Cosgrove Players (our drama group) and the Cosgrove Creative Art Group, both of which cater for participants of mixed ability. Some participants have Down's Syndrome, some dementia, autism, sensory impairment and some are non-verbal. Our members range in age from 18 to over 70.
The Cosgrove Players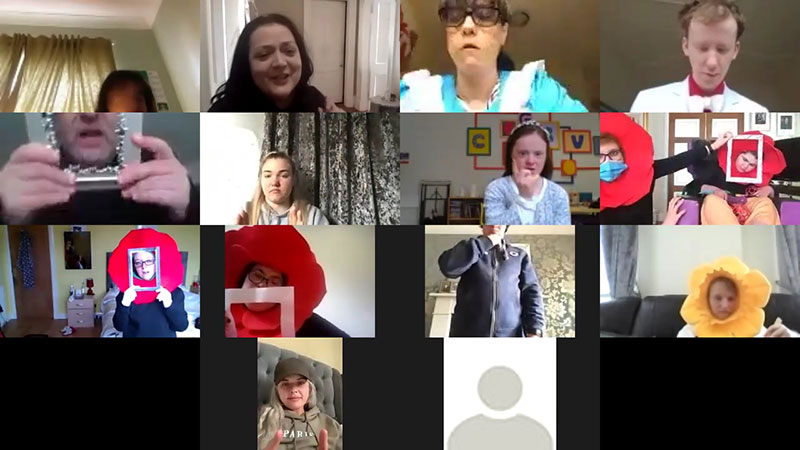 Cosgrove's drama group; in normal times; devises, rehearses and presents drama, exploring real and imaginary situations, using improvisation and script, exploring how they can use movement, expressions, voice (or a pre-record switch) in role play and drama.
During the current restrictions, there have been a mix of sessions delivered. The large group sessions, up to 15 in number, have become movement based with smaller group (six participants) and one to one sessions allowing for more detailed character and performance skills work.
The sessions are sculpted to fit the needs of the individuals. Participants have risen to the challenges posed by the pandemic with some, wo were struggling to engage prior to the pandemic, excelling in this new learning environment.
Cosgrove Creative Art Group
The Cosgrove Creative Art Group uses the creation of different forms of art to deliver a wide range of outcomes for participants including:
Improved concentration, mental and emotional wellbeing
Improved art skills and communication / expression
Increased confidence and ability to express themselves to shape and direct sessions
Being able to provide access to arts for disabled people also improves the perception of their ability to develop skills and produce high quality art.
As current restrictions due to the pandemic continue, the creative art group has moved online for small group sessions of up to four participants and in person for some one to one sessions. Participants have continued to learn new skills and remained positive and caring throughout and as you would expect of an online class – there have been and continue to be laughs along the way.