Children's Outreach
Cosgrove Care's Child Services provide a high standard of care and support for children aged 3 to 18.
We can support your child in the following ways:
In their own home in one to one basis
At a range of out of school leisure and sporting activities
At our school holiday play schemes which have resource based activities as well as outings
At respite breaks
We work with your family to develop plans which are tailored to meet the requirements and aspirations of your child.
We also provide support for your family as a whole, as well as your child, by including parents and siblings in activities and outings.
At group activities, we ensure that we support your child in safe, stimulating and fun environments which cater for your child's social, emotional, physical and intellectual needs.
Cosgrove Care's respite breaks are designed to provide a fun and safe environment for peer groups to come together.
We are constantly looking at how we can help improve your child's skill set. We believe that the children we support have the right to access the same opportunities and experiences as everybody else.
Cosgrove Care's child service has achieved Autism Accreditation from the National Autistic Society (NAS). This is a quality assurance which means that Cosgrove Care is constantly improving the quality of the service we offer. In Scotland only 49 organisations have Autism Accreditation despite around 9,000 people who are under 16 years old having an autistic spectrum disorder.
We can offer flexible support which you can access with your individual service fund. In addition, many of activities are free or at a competitive rate.
If you'd like to find out more about how we can provide support please get in touch.
Meet Callum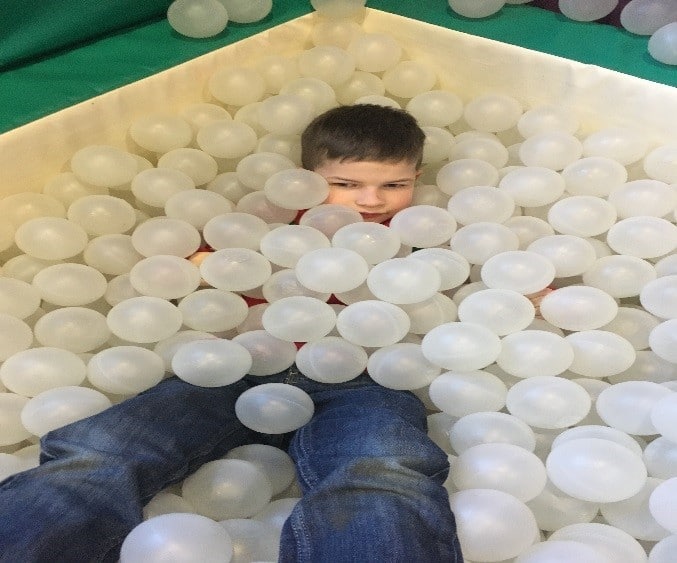 Callum is 10 years old and accesses Outreach Support from Cosgrove as and when his family require it. Callum attends our playschemes during the holiday periods and has also recently attended one of our short breaks to the Calvert Trust.
Callum is such a joy to have around, constantly full of energy and mischief and keeps all of our child services staff on our toes!
The funding Cosgrove receives can make such a difference to families. With funding we can be creative in the ways in which we provide care and ensure that services are much more financially accessible for those who only receive small budgets.
Knowing the difference we can make to a family makes everything we do so worthwhile.
Callum's mum Denise said:
I want to say a big thank you for the trips Callum has gone on with the Playscheme and also his amazing trip to the Calvert Trust, he's a very lucky wee boy.I appreciate the huge effort involved in organising these trips but have to say it's brilliant, not only for Callum but also for me as a parent as I know Callum has a ball