East Renfrewshire Good Causes recently provided funding to help purchase 16 tablets enable 16 local people supported by Cosgrove Care to get connected. Russell MacMillan from East Renfrewshire Good Causes dropped into Cosgrove's offices in Giffnock to hand over the tablets to Cosgrove's Chief Executive, Heather Gray.
The tablets will allow people with learning disabilities to take control of their supports and get connected to online activities. Heather Gray said, 'We are really delighted to have received this support from ERC Good Causes. Many of the people we work with have been isolated and lonely during lockdown and the tablets will allow them to take back some control of their lives. It's great to be working in partnership with Russell again and we are really pleased that yet more local people are benefitting from the support of this incredible charity.

Heather Gray, CEO of Cosgrove Care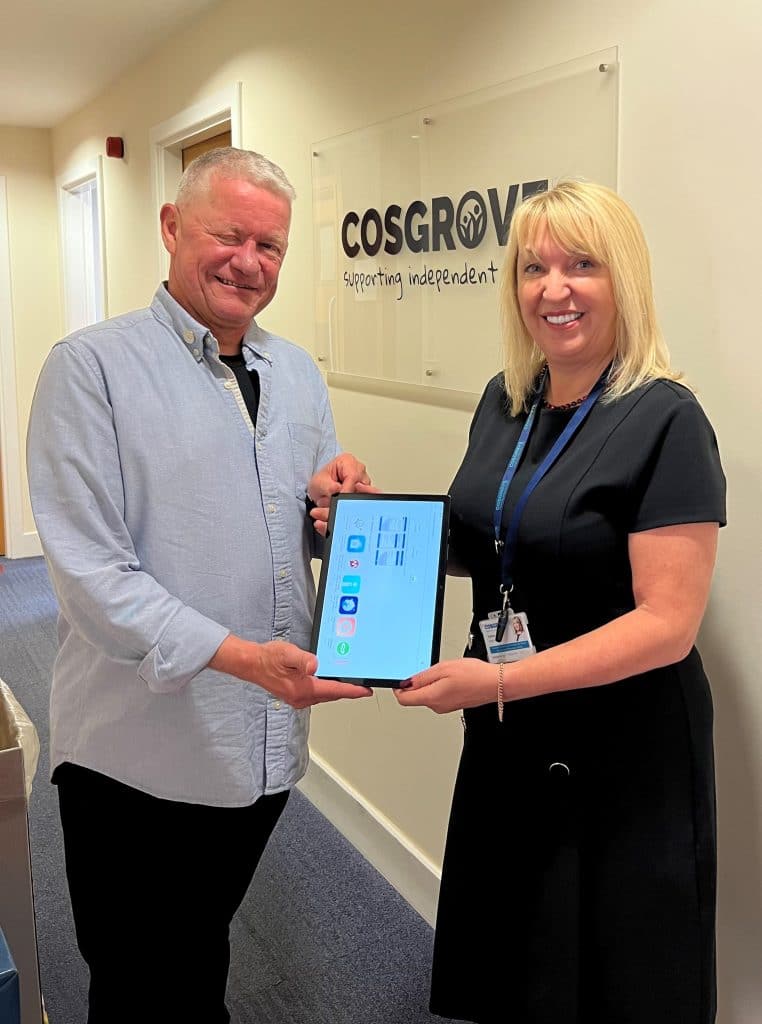 ---
Editor's Note:
East Renfrewshire Good Causes is a local charity that can help us to do this and we are very proud to be recognised as one of its group partners. We will endeavour to support this charity through our fundraising events and we will continue to raise awareness of the good work that the charity does within our community www.ercgoodcauses.co.uk
Cosgrove Care is a local charity based in Giffnock who believe that people who need additional support deserve the opportunity to live the life they choose, and to thrive as equal citizens in our local community. At Cosgrove, we help to improve the lives of people who have additional needs and their families to maximise the same opportunities as everyone else. We do this by providing person led and outcome focussed support which is tailored around the needs and lifestyle desires of each person as an individual. Cosgrove Care also offer advice and information across West Central Scotland, to everyone who needs it.
Cosgrove Care are an Autism Accredited and Disability Confident Organisation and abide by the Scottish Social Services Council (SSSC) Codes of Practice. Cosgrove Care is a charity registered in Scotland Charity No SC013208.
Contact: James Lwanda – email: Jlwanda@cosgrovecare.org.uk, tel: 07841461398