Cosgrove held a fundraising Afternoon Tea on Sunday 21st February, which was an event that brought delicious food and smiles to people's faces, and showcased some wonderful generosity of spirit and pocket!
Cosgrove has previously held Afternoon Tea Events in 2020, which proved to be a big hit with supporters in the local community, and the first Afternoon Tea of 2021 proved to be just what was needed, with over 150 teas delivered to people's houses. Some of the teas were generously gifted to others in the community as a lovely surprise gift, and 12 of Cosgrove's fantastic volunteers helped to deliver the teas. This included East Renfrewshire Councillor Annette Ireland, who said of the event –
This is the third time I've been involved in delivering Afternoon Teas with Cosgrove, and it's lovely to be involved in something that puts smiles on faces and brings the community together.
Cosgrove Chief Executive Heather Gray said –
We're delighted to be able to put on an event like this at this time that means people can feel that bit more connected whether its by volunteering, donating an afternoon tea to someone else or simply enjoying a delicious tea themselves!  We are lucky to be able to utilize the skills of Gary the Kosher Chef to prepare over 150 delicious teas in one morning, and Jewish Care for generously allowing us to use an appropriate space so that we can prepare the teas in a socially distanced manner.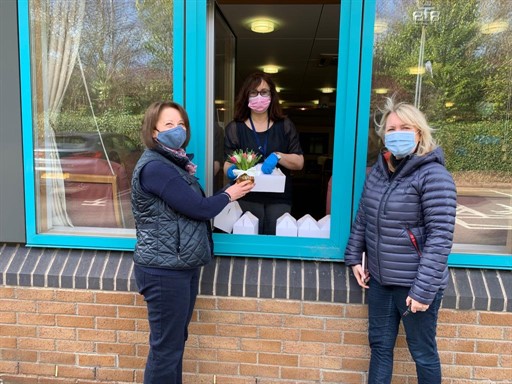 All profits from the Afternoon Teas go towards Cosgrove's Community Appeal 2021, which enables the charity to further its assistance to those in need in the areas where they provide support in East Renfrewshire.
The date for the next Cosgrove fundraising Afternoon Tea is 18th April – for further information or to book your tea, contact Sharon by emailing skaye@cosgrovecare.org.uk or via 07900 923544.
You can support Cosgrove's Community Appeal here: https://www.cosgrovecare.org.uk/appeal/cosgrove-community-appeal